Content: fgtc.zip (1.86 MB)
Available: 1
Uploaded: 18.03.2010

Positive responses: 0
Negative responses: 0

Sold: 0
Refunds: 0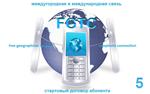 In this product include:

1. Description of the system, which allows the subscriber to make calls from any phone, regardless of its location by a single tariff, saving -50-70% cash.

2. The software for mobile phones and PDAs that support the system.

3. Start Treaty and passwords to access the system.

4 to 5 minutes of long-distance or international calls.
With the acquisition of product you will receive:

1. You will be able to call directly to the high quality, superior IP-telephony.

2. Cost savings of 50-70%, is not only in Russia but also abroad.

3. High service and control their online conversations.

4. There will be no need to have multiple simok operators tariff plans.

5. Your payments will not depend on changes in the tariff plans of your operators.

6. Can you make calls from any phone at low rates.

7. In contrast to IP telephony desired subscriber will see it your phone number.

8. If you wish, an economical call your relatives will be able to Use.

9. While abroad, you will call the economical calling rates in Russia.

10. Speaking will be more and pay less.
No feedback yet