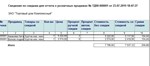 External printed form for the document "Report on retail sales" configuration 1C Retail 2.2
Displays those sold items for which the discount was made. Unlike regular reports, the data is displayed in detail: if the product had different discounts in different checks, then they are all shown separately, and not summarized. Can be used to control cashiers.
Made in the form of an external report.
No feedback yet