Content: bgoro.rar (205.72 KB)
Uploaded: 16.10.2007

Positive responses: 0
Negative responses: 0

Sold: 8
Refunds: 0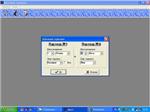 Marriage zodiac horoscope, developed for the operating system Windows.

Materials for the program courtesy of the famous Russian astrologist TAMARA Globo.


Using the program is simple and easy to get the results of the analysis of the compatibility of partners.

You can verify the reliability of the results, putting the data of their friends or relatives.


Compact archiver Win RAR.


The volume of files being downloaded 0 2 M b.


No feedback yet