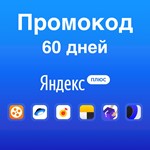 The offer includes:
☑️ Movie Search HD;
☑️ Yandex.Music;
☑️ Free shipping in Beru !;
☑️ Discounts in Yandex.Taxi and Yandex.Drive;
☑️ Discounts in Yandex.Health;
☑️ Special promotions

For new users

The promotional code is entered on the same day from the moment of purchase!

If you have any difficulties, write to us at the contacts listed on the site or through messages in your account. We will try to help you anytime!
Yandex.Plus subscribers get access to the Yandex.Music premium features, a 10% discount on the Comfort, Comfort + and Business tariffs on Yandex.Taxi, a 5% discount on Yandex .Drive ", 10 gigabytes of extra space in Yandex.Disk and a discount on all tariffs in this cloud storage, discounts on the Yandex.Health service, special promotions in" Edadil ", free delivery of any goods from the" I take "marketplace when purchase in the amount of 500 rubles, as well as the ability to watch films and TV shows in Kinopoisk without ads and in high quality.

18.05.2022 22:50:24
Спасибо !быстро разобрались! Быстро активировали!рекомендую
11.03.2022 6:05:28
все замечательно , продавец обменял промокод! 5 баллов за оперативность!