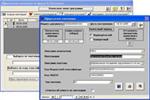 By purchasing this software, you get the ability to:

1. For all the issued documents maintain a record.

2.Sostavit their guides to recipients, payors, descriptions payments and budget classification codes.

3.Ispolzovat program unlimited

users.

4.Vyvodit print receipts form in Word and edit it.

5.Sozdavat database backup.

Set bundled with Office XP (2002), 2003, 2007.

Registration key to the program is determined by a unique number and the name of the computer (user program), which are determined after the initial installation. To determine the registration key necessary to the author by email, specified in the registration form.
No feedback yet