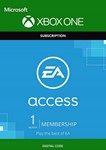 EA Access is a membership program that lets members play more games for less, only on Xbox One.
Binge on a growing collection of more than 10 awesome games in The Vault, play upcoming EA games before they release for a limited time, and get an exclusive 10% discount on all EA digital purchases on Xbox One, including full game purchases, pre-orders, expansion packs, Ultimate Team Points, and everything in between.

To activate the code, follow these steps:
- Go to
http://www.xbox.com
site;
- Click on the link "Login" in the upper right corner;
- Log in your account; (MAY REQUIRED TO CHANGE LANGUAGE IN ENGLISH)
- Go to "My Account";
- Select "Redeem Code";
- Enter the purchased code .
17.03.2020 13:33:33
Отлично
09.11.2019 21:29:55
Всё работает. Спасибо!