Content: text (24 symbols)
Available: 1
Uploaded: 18.01.2020

Positive responses: 1
Negative responses: 0

Sold: 30
Refunds: 0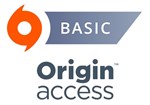 You buy the official key for the subscription "Origin Access Basic for 1 month" for PC (Origin).
After paying for the goods, you will immediately receive the key by e-mail.

KEYS BETWEEN YOURSELF BETWEEN YOURSELF!
You cannot activate a subscription for more than 2 years on one account

Platform: PC (Origin)
Regional restrictions - no

-----------------------------------------------------------------------------------------------------------------
Subscription Benefits:
• access to the growing collection of The Vault games, which even has Star Wars Battlefront 2 and Battlefield 1 (176+ games)
• up to 10 hours of playing the trial versions of "Play among the first" games of FIFA 19, Anthem and other games
• 10% discount on purchases at Origin.
-----------------------------------------------------------------------------------------------------------------
Key Activation:
1. Download and install Origin (
http://www.origin.com/download
)
2. Launch Origin.
3. Log in using the email address and password provided when registering on the Origin website. If you have not registered on this site, then create a new account.
4. In the upper left corner, click Origin-> Activate product code and activate the received code.