Content: text (57 symbols)
Available: 1
Uploaded: 27.05.2020

Positive responses: 3
Negative responses: 0

Sold: 40
Refunds: 0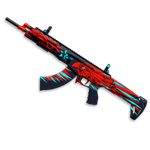 AK Alpha has an easily controlled recoil and high rate of fire.
ATTENTION!!! The PIN code is valid for less than 24 hours! Activate as fast as possible!
The latest pin codes! Constantly updated before the expiration date!
ATTENTION!!! This code is intended for activation only on RU servers of the PC version.
After the purchase you receive:
PIN: AK Alpha Open Cup 2019 (6 hours)
The expiration date of the PIN code is also indicated there!
By activating the code on the site wf.mail.ru, you will receive AK Alpha Open Cup 2019 for 6 hours from the moment of activation.
Delivery: Electronic pin activation code in the form of a text form (XXXXX-XXXXX-XXXXX-XXXXX-XXXXX).
Delivery Time: Instant Email.
Game: Warface
 Activation:
1. If you are not registered in the game, then first sign up.
2. Activate it on the game website:
https://wf.mail.ru/pin/activate
3. Enter the code in the field for codes and click the "Activate" button.
By purchasing this product you confirm that you are registered in the game Warface - wf.mail.ru - RU server PC version
Pin codes are non-refundable! Think over your purchase, check the availability of inventory / arsenal or another for the purchased PIN code before purchase. The complaint about the inoperability of the code is considered only in the case of video recording, from the time of purchase of the product, followed by activation WITHOUT GLASES in full screen with time in the system tray!
17.11.2019 18:09:34
Пин активен , всё чётко
26.08.2019 12:50:27
заебумба не кидает советую
25.08.2019 21:07:25
чел норм советую цена хорошая + скин пиздатый +rep