Content: Vector.rar (1.33 KB)
Available: 25
Uploaded: 18.05.2019

Positive responses: 0
Negative responses: 0

Sold: 0
Refunds: 0

Seller: MACRO LAB
information about the seller and its items
Loyalty discount! If the total amount of your purchases from the seller more than:
| | | |
| --- | --- | --- |
| $1 | the discount is | 1% |
| $3 | the discount is | 3% |
| $5 | the discount is | 5% |
| $10 | the discount is | 7% |
| $15 | the discount is | 10% |
| $25 | the discount is | 15% |
| $50 | the discount is | 25% |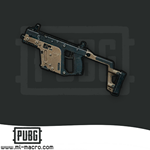 Macros fit on Bloody / X7 mice

Macro on Vector for the game PUBG from MACRO LAB

Initial speed of a bullet: 300 m / s
Shot Speed: 0.055 seconds
Power: 7,000
Caliber: .45
Shop: 13
Shooting modes: single, bursted, automatic
Damage

Damage to the body without body armor: 31
Body damage with level 1 body armor: 21.70
Damage to the body with a level 2 body armor: 18.60
Body damage with level 3 body armor: 13.95
Headache without helmet: 77.50
Head damage with 1st-level helmet: 54.25
Head Damage with Level 2 Helmet: 46.50
Head damage with level 3 helmet: 34.88
Only macros for the internal memory of the mouse are not visible to BattlEye by 100%! Chit program and fashion for the RUBB for full suppression of returns injected into the game! Do not believe those who say that the EXE program is not injected, without it it does not work! The risk of getting a BAN for using a cheat program or a fashion for RUBY is very high!
Macros for the game PUBG written for the mouse A4tech X7 and Bloody on the weapon without modules, consider when installing additional equipment, their impact on the impact! The weapons in the game have a strong scatter and nominal accuracy only in the first shots, then a random design, which, accordingly, does not allow you to write macros with a high precision clamp. Using modules that reduce horizontal and vertical dispersion at a high rate of fire will slightly increase the accuracy, with a decrease in the rate, the increase in accuracy with such modules is more noticeable!
The weapon has 3 variants of shooting: single, burst and automatic. The best accuracy can be achieved when shooting single, but for a short distance, the fully automatic clamp will be more effective. Which mode to use the choice is yours!
No feedback yet