Content: text (16 symbols)
Available: 2
Uploaded: 07.07.2018

Positive responses: 5
Negative responses: 0

Sold: 8
Refunds: 0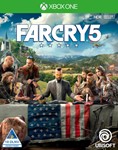 25-digit digital key for xbox one Far Cry 5 - the standard version.
ATTENTION! The digital code is received within 24 hours after payment.
Immediately after payment, write to the seller in the chat with the goods and provide a unique code confirming the payment.
***
Leave your feedback and get a discount. Thank you!
You can see all our offers here:
http://digitalpro.plati.ru
*** ANY NEW NEW KEY OF ACTIVATION UNDER THE ORDER ***
***
After the transfer of the game activation key, the buyer must activate it within 20 minutes. If the code is not activated in your region, you need to activate it in the USA region (since the keys are purchased in the US counter), by placing it with the VPN server.
28.06.2018 23:13:48
Отлично
20.05.2018 19:13:10
Не много с опазданием, как я понял из-за технических проблем, а так игра на месте, играет и радует.
02.05.2018 9:07:47
a dealer. it´s coming right back.

24.04.2018 21:19:26
Все здорово. Получил, активировал, играю.
17.04.2018 17:26:51
Оплатил, продавец прислал код активации, активировал через сайт. Всё быстро и удобно, а главное - дёшево. Всего-лишь на 700 рублей дороже, чем на пк.