Positive responses: 0
Negative responses: 0

Sold: 0
Refunds: 0

Seller: S_Game
information about the seller and its items
Loyalty discount! If the total amount of your purchases from the seller more than:
| | | |
| --- | --- | --- |
| $3 | the discount is | 3% |
| $5 | the discount is | 4% |
| $10 | the discount is | 5% |
| $50 | the discount is | 7% |
| $100 | the discount is | 10% |
| $500 | the discount is | 15% |
Sorry, but this item is temporarily out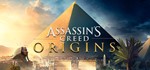 • After payment, you receive data from the Uplay account, with the game Assassin´s Creed: Origins!
===========================
• Data: login: password
===========================
• Game description:
The tenth game of the series Assassin´s Creed is ready to reveal the mysterious past and tell a story that no one has ever heard before. What did not the creators tell the fans yet? How did the great Brotherhood originate? Buy Assassin´s Creed Origins is already because the game stands out among the same type of the previous parts. It can not be considered a reboot of the game series - rather, it is quite an adequate continuation of it. The fascinating action will throw you during the reign of Cleopatra and make an irreconcilable fighter for the safety of his brethren in the Order in Hellenistic Egypt. Go your way in this vast world full of memorable adventures, incredible discoveries and find out the background of the formation of the Guild of Assassins!

When buying, you agree to the rules:
Replacement of the goods within 10 minutes from the date of purchase in case of no valida ONLY WITH THE PRESENCE OF VIDEO FROM THE MOMENT OF PURCHASE!
The rule is one for every buyer!
Who do not like the rules can not buy!
• Account Not returned (Replace only if not valid at time of sale)
• Replacement of accounts only within 10 minutes from the date of purchase.
• Guarantee only at the time of sale.
• After the purchase, YOU accounts and only YOU are responsible for it.
• The change of all data is carried out by the buyer.
• If there is a secret question on your account, your account can not be returned and exchanged!

No feedback yet