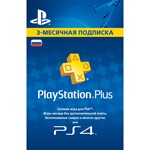 The ultimate membership service that will take your gaming experience to the next level. As a member, you´ll get access to an ever-expanding Instant Game Collection and a diverse range of immersive online multiplayer experiences for the PS4 system. One membership to PlayStation Plus extends to your PS4, PS3, and PS Vita systems.

This code works only in Russian Playstation Network accounts
After successful activation, please leave a positive feedback. Thank you!
20.06.2018 21:06:13
все в порядке. можно доверять и покупать.
спасибо:)
24.03.2018 14:11:15
vce ok
15.03.2018 23:59:12
все окей !!!
05.03.2018 19:23:32
все отлично
05.03.2018 17:09:22
Большое спасибо! Покупкой доволен!
17.02.2018 13:52:46
Картинка дошла мгновенно, код активировался без проблем. Спасибо.
03.02.2018 18:45:49
vce ok
28.01.2018 18:18:17
Спасибо.
28.01.2018 3:20:13
Все сработало. Можно доверять.
27.01.2018 17:36:35
Все отлично, спасибо)