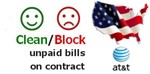 Checking the iPhone AT & T BlackList or Clean

Based on the results you will be able to determine on what basis to order an iPhone unlock from AT & T operator, by the base: Clean or BlackList

The check can show unpaid bills if the operator AT & T has blocked the phone due to debts or if the phone is still on an active contract (ie the contract has not yet expired).


Examples of verification results:

This device is not eligible to be unlocked now. [Blacklist - IMEY on the contract of the operator]
This device is not eligible to be unlocked now because of all installment payments. [Blacklist due to debts for unpaid bills]
This device is not eligible to be unlocked because it was reported as lost or stolen. [Blacklist because of lost / stolen]
The IMEI you entered does not appear to be an AT & T wireless phone or tablet. [The operator specified is incorrect: this IMEI is not locked by the AT & T operator]

Blacklist data - NOT FOUND [With 90% probability this IMEI can be unlocked as pure CLEAN]


ATTENTION:

1) in 10% of cases the result of this verification is uncertain.

2) seldom but this happens ISEI is clean, but it is "tied" to the business account. This means that the application for unlocking can be submitted only by the owner of the business account. This IMEI can only be unlocked via the BlackList server.

3) the probability of receiving a false / inaccurate response from the server is 5%. Consider this when placing an order, we can not affect this technical nuance of the operator

4) cancellation of the order for this service is not provided. The provider does not return payment for this service even in case of incorrect result (in other words you pay for the service and even if there is no verification data we can not make a refund, we pay each request without options for canceling the order for us, it´s not our whim, keep in mind)
Immediately after payment you will receive a form to fill in the registration data, in which you will have to fill out the following fields:
- The e-mail address (email);
These data will be transferred to the seller to complete the purchase and sale of the goods.
No feedback yet