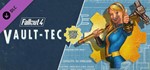 attentionThe game is sent automatically. After payment you will receive a link on which you can activate the game on your account!

ONLY RU OR CIS

The game can not be taken into inventory, only installed in the library
</ attention>

Additional content
The launch requires a Steam version of Fallout 4.

ADDITIONAL INFORMATION

Build a better future underground in the new Vault-Tec Workshop add-on. Create a huge Vault and attract residents into it with the help of pre-war industrial kits, which include retro furniture, lighting fixtures and ornaments. And, like any good Caretaker, conduct experiments on your residents to make them ideal. "Volt-Tech" will give you tools, and the rest - for you!
02.06.2018 16:26:53
Товар пулучил все хорошо!