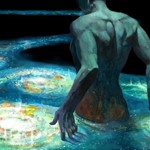 Earlier, the "Giant" was one of the internal practical complexes, and no one from outside our community was allowed to fully study it. But, with the development of the new system and the development of more and more in-depth and effective methods, it was decided to gradually begin open learning some basic practices and complexes, including the "Giant".
What will this course provide?

The practical complex "Giant" will allow you to master the first basic techniques of "non-ritual magic" - a real impact on the outside world without the aid of rituals, spells and appeals to any forces. At the same time, we will also do without fantasies on the topic of fireballs and all kinds of visualizations, relying mainly on the possibilities of consciousness and perception of man.

"Giant" is built in such a way that it can be used in any field of life. In particular, he will teach you:
- Perceive the world "as it is". With all its aspects, levels and so on within the framework of a single personal picture.
- Treat and maim. Diagnose and call. Change the pictures of any probabilities and attract the ones you need. The choice of actions is yours, and the uniform tools for this will be given.
- Turn almost any negative, directed towards you, into free and useful recharge. Yes, it is possible and so it really happens :)

How it works?

The work of the complex "Giant" is based on changing the perception of reality with the help of relatively simple keys that do not clog head, but simply remove some root locks that are "stitched" in the mind of a person.

Table of contents:

Lesson 1. "Weight".
Lesson 2. "Dimension".
Lesson 3. "We change perception."
Lesson 4. "The giant is awakened".
Lesson 5. "The Giant turns his head."
No feedback yet