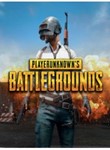 !! INSTANT DELIVERY IMMEDIATELY AFTER YOUR PAYMENT IS CONFIRMED !!

After paying for the order, the system will automatically (without our participation) instantly send you a link to your game's official activation key: PlayerUnknown's Battlegrounds
Attention! Activation only on Steam!

Interface Languages: Russian, English, Chinese, Korean, French
Region: Russia
Activation: Steam

ATTENTION! Activation of the key is possible only from the Russian IP (keys can only be activated on Russian accounts, i.e. with a ruble balance and indicating the country in the settings - Russia). Therefore, to activate in another country, you need to use a VPN, for further playing, you can use your own IP address.
The ability to run the game from any IP may be changed by the publisher without warning.

PlayerUnknown's Battlegrounds (abbreviated as PUBG) is an under development multiplayer online game in the genre of the royal battle, developed and published by PUBG Corporation, a subsidiary of Korean publisher Bluehole. The game is based on previous modifications for other games created by Brendan Greene under the pseudonym "PlayerUnknown", the concept of which was inspired by the 2000 Japanese movie "Battle Royale." As a result, this led to the creation of an independent game, where Green acted as a leading game designer. In the game there are up to 100 players who parachute to the island, after which they look for equipment and weapons to kill other participants and at the same time stay alive. The available safe zone on the in-game map begins to decrease over time, directing players to closer areas to push them together. The last surviving player or team wins the round.

PlayerUnknown's Battlegrounds was released on Steam through the March 23, 2017 Early Access Program for the Windows operating system. During the first seven months after the release, more than 13 million copies of the game were sold, and the peak number of players reached more than 2 million people by the end of the year, making it one of the most popular games on Steam. On October 31, PUBG sales exceeded 18 million copies. Bluehole plans to release the full version of the game on December 12, 2017. Exit for Xbox One under the publishing house Microsoft Studios is scheduled for the same time under the program Xbox Game Preview.
Key Activation:
1. Download and install Steam -
http://store.steampowered.com/
2. Register a new account on Steam or go to an existing one.
3. Go to the "My Games" section and select "Activate via Steam", enter the key.
4. After activation, the game appears in the list of games and you can download it from Steam.
30.09.2020 20:32:07
Tnx Seller
21.09.2020 23:38:53
Worked thank you <3
03.06.2020 1:48:57
Всё работает.
31.05.2020 21:20:37
Купил, получил, активировал - быстро и удобно, спасибо
29.04.2020 21:41:50
Activated
THx
29.04.2020 13:41:52
Activated
THx
27.04.2020 11:45:47
good seller
26.04.2020 16:23:08
Activated
THx
29.01.2020 15:03:11
Good!
24.01.2020 11:15:45
Аригато)
18.12.2019 16:16:24
tnx bro
07.10.2019 23:02:11
Working Key
05.10.2019 9:32:12
Все пришло моментально) спасибо)
22.09.2019 23:48:51
Спасибо, всё четко, юзайте ВПН, кто не из Рашки. советую SoftEther VPN Client Manager, бесплатный и рабочий овер 200%
22.09.2019 22:47:37
Very Good seller
22.09.2019 10:28:32
Ключ рабочий!! рекомендую!
22.09.2019 8:45:09
WORKING GREAT
22.09.2019 4:28:51
good!!