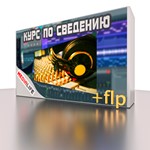 From this course you will learn what is the mixing, for what this process is performed, what stages of the information I use, what sets of plugins I use. I also explained in detail how compression works, multiband compression, EQ and MID-Side processing. In general, everything that is necessary for the qualitative reduction of your track. In the course, I perform the mixing of the track in the style of Future Bass, but the principles of information that you learn from this course can be applied to any other style of electronic music. Here is the track that was in the course:
https://youtu.be/NGoJDjv4PGs
The cost of the course is from 59 rubles, but you can specify any amount that you think is necessary. I would be very grateful if you would evaluate my work for its worth, after all over each of the courses I worked for more than one day and tried to explain all the information as clearly as possible. In the archive there is a document with links to downloading the course and other necessary information.
25.12.2017 13:03:34
Спасибо,всё работает!