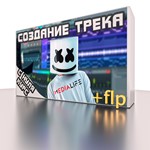 This course creates a track like the track Marshmello - Alone in one of the most popular programs for creating music - FL Studio. The total duration of the course is about 2 hours. The track that was created in the course can be listened here
https://youtu.be/Eg5mB8tuXTo
. After viewing this course, you will be able to create your track in a similar style.
The cost of the course is from rubles, but you can specify any amount that you think is necessary. I would be very grateful if you would evaluate my work for its worth, after all over each of the courses I worked for more than one day and tried to explain all the information as clearly as possible.
28.12.2017 7:43:32
Все отлично
27.12.2017 17:49:24
Очень помогло. Спасибо!
09.11.2017 19:02:51
Спасибо огромное, что отдаёшь эту ценную информацию практически даром. Покупаю уже четвертый курс.
09.11.2017 16:04:30
Спасибо покупаю не первый раз всё здорово