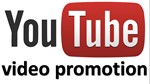 We offer new unique service for the full (complex) promotion of your videos on the channel in Youtube. Complex promotion of video means that immediately at the same time will be running views video YouTube, likes YouTube videos, comments videos and subscribers to the channel.

It is very important that all these actions will be performed synchronously simultaneously. We are the first who offers this. Everyone does their own likes, after a while views, even later subscribers, and forget about the comments. The result is very bad.

Not everyone knows that on Youtube there are filters that track the naturalness of actions. For example, the likes of video can not be more than views, subscribers too can not have more views. All actions should be carried out gradually, and not abruptly. If Youtube system detects not natural activity, then all actions (likes, views) are canceled, and your channel can be blocked.

We offer professional promotion of your channel in Youtube. It is expensive, but worth it. In this case, you do not need to do anything, just after the payment specify the link to your channel. Proportionately, the likes, views and comments will be distributed to all your videos.

As a result, you will receive:
- More than 1000 channel subscribers;
- More than 5,000 likes all your videos;
- Over 30,000 views all your videos;
- More than 100 comments all your videos.

Contact if you have any questions, or suggestions.
 

Attention!!!!!!
Your channel must have at least 10 videos. With less quantity, we will not be able to fulfill the order.


__________________________________________________________

We provide all kinds of services in social networks. If you need followers in instagrams, twitter, facebook, or likes, reposts, comments or other actions in any social networks, please contact us, just click on "Ask Question" link at the top. In detail we will consult.

_________________________________________________________
Immediately after payment you will receive a form to fill in the registration data, in which you will have to fill out the following fields:
- you youtube channel;
These data will be transferred to the seller to complete the purchase and sale of the goods.
No feedback yet