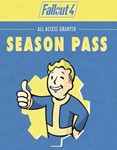 🏴By buying Fallout 4 - Season Pass you get the license activation key immediately after payment in your account on
http://www.oplata.info
the registration is automatically sent to you buy email.
🕬
>Attention:< Additional content! To access the content requires the game Fallout 4
🔑Activation: Steam/PC
🌐Activation region: Russia and CIS
🗛Localization: Russian (GUI and subtitles)
📆Release date: 31 January 2016
Developer: Bethesda Softworks
Publisher: Bethesda Softworks
🕮►ABOUT THE GAME: ◄
With Fallout 4 Season pass you can get access to all future DLC for the game Fallout 4 at one special price.
!!!ATTENTION!!!
Each client will leave positive feedback after purchasing the game, you can get an individual activation key gift Steam games. As a gift you get one of the over 30 different games to Steam.
To obtain the key required to write to the seller after leaving feedback in a private office
http://www.oplata.info
in section "correspondence with the seller." The distribution of keys within 48 hours, excluding weekend days from the moment of writing the review.
ATTENTION: the Given key to activate on Steam.🔑
🕹How to start to play Fallout 4:
•If you have not installed the Steam client, download and install it .
•Log in to your Steam account or register a new one if you have not already.
•Go to "Games" and select "Activate via Steam".
•Enter the activation key received after payment.🔑
•After that, the game will appear in the list, and you can download Fallout 4.
26.09.2018 8:10:30
долго шло, а так норм
25.09.2018 12:24:43
супер!!1!1
24.09.2018 16:18:09
Спасибо ! Все супер
23.09.2018 18:46:08
Ключ пришел, активировал
23.09.2018 13:09:18
спс все быстро пришло
21.09.2018 13:01:22
Nice seller. Waiting for gift.
16.09.2018 20:28:47
Супер!!!
15.06.2018 22:07:07
Всё работает, продавцу спасибо
15.06.2018 14:02:37
ключ действительный )
12.02.2018 14:26:33
Good,как обычно!
07.02.2018 11:08:24
Спасибо, все хорошо!
02.02.2018 18:31:27
Товар получил , загружаю
25.01.2018 11:53:18
Спасибо, активация прошла успешно.
03.01.2018 19:28:31
Спасибо!
17.12.2017 2:49:39
Все прошло хорошо!