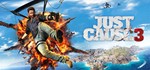 You are waiting for more than 1000 square kilometers of freedom. Rico came back to make the riots in the most ingenious ways.

This gift can only be activated in these countries: Armenia, Azerbaijan, Belarus, Georgia, Kyrgyzstan, Kazakhstan, Republic of Moldova, Tajikistan, Turkmenistan, Uzbekistan, Ukraine, Russia
How to start playing Just Cause ™ 3:
Instructions for activation of gift copies of games in steam:
1) Download and install the STEAM client
http://steampowered.com/download/SteamInstall.msi
2) Register an account, or log in to your existing account.
3) Follow the link received after payment
4) Add the game to the library or inventory
5) After the activation of the game, the process of downloading the content will begin.
6) Wait until the download is complete.
7) Play.
16.10.2017 16:34:01
Всё работает.Жду подарок
05.10.2017 10:17:44
Все прошло успешно. Хочу подарок.
18.09.2017 17:01:05
Все отлично! Спасибо.
25.08.2017 19:02:52
спасибо за гифт
05.08.2017 13:15:55
Всё хорошо советую спасибо !
29.07.2017 15:52:58
Спасибо!