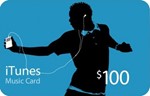 Dear Customer!
After purchase you will receive a iTunes card ID (16-digit code) the nominal value of 100 USD.
After entering the code, your iTunes account will be replenished for 100 USD, and you can buy any content in the App Store such as games, apps, music, movies and books for iPhone, iPad and Mac App Store
How to Redeem:
Tap the App Store icon from the Home Screen.
Navigate to the New section on the Featured tab.
Scroll to the bottom of the list to locate and tap the Redeem button.
Enter the promo code and tap the Redeem button in the upper right.