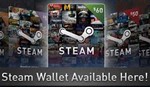 !! INSTANT DELIVERY DIRECTLY AFTER YOU CONFIRMED YOUR PAYMENT !!

After payment of the order, the system automatically (without our participation) instantly sends you a link to access the official account balance account (Wallet Balance) in Steam for $ 0.97 (0.97 US dollars) - this is the equivalent, initially the card is not dollar! If your account is in a different currency, this amount will be converted at the current exchange rate.
The key has no territorial restrictions and can be activated in any country!
Activation:
- Log in to your Steam account
https://store.steampowered.com/account/redeemwalletcode
- Click on Account "your user name" in the upper right corner and you will be directed to your account.
- On your right-hand side of the Data page, users have a blue box that displays the current status of Wallet Balance.
- Directly under the Wallet Balance, there is a link to enter the code from the card and credited to your Steam Wallet
Our reliability tested over the years:
* More than 6 years on the market!
* More than 60 thousand sales over 9000 positive feedback!
* Webmoney Business level (BL) above 400!
* All our keys only from authorized distributors!
* We take full responsibility for the products sold by us and give 100% quality guarantee!
08.02.2019 22:59:59
GOod 0,97$
22.11.2018 22:32:49
Activated
THx
18.09.2018 19:49:34
Ключ пришел, но цена на 20 руб должна быть меньше, ведь 66 руб на акк

15.09.2018 8:37:11
Спасибо!
26.05.2018 15:36:47
Got my key :) thx
22.04.2018 17:13:55
thanks
27.03.2018 19:34:34
Ключ подошел :)
27.03.2018 18:54:26
Ключ подошел :)
28.06.2017 23:41:11
Получил, активировал.