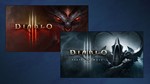 !! INSTANT DELIVERY DIRECTLY AFTER YOU CONFIRMED YOUR PAYMENT !!

ATTENTION! Can not be activated in China!

** !! WARNING !! ** After purchase, you can absolutely get a random (random) activation key for one game on Steam.
JUST LEAVE A POSITIVE FEEDBACK for the goods with a request to send a bonus!

After payment of the order, the system automatically (without our participation) will instantly send you a link to the mail for access to the official activation key of the game: Diablo 3 Battlechest for activation on the Battle.net platform

The composition of the publication Battlechest - 1 key for the activation of both editions:
- Diablo 3 and
- Diablo 3 Reaper of Souls

Activation: Battle.net
Platform: Windows, Mac
Language: English (US), Español (AL), Português (AL), English (EU), Deutsch, Español (EU), Français, Italiano, Polski, Русский, 한국어, 繁體 中文, English (SEA)
Genre: Roleplaying
Publisher: Blizzard Entertainment
Region: Region free (all countries)

About the game:
Twenty years have passed since the entire Sanctuary filled the hordes of the undead whose commanders-in-chief were Diablo, Baal and Mephisto. Most residents have already forgotten about those terrible days, but those who participated in this great battle - still remember all the similarities of the past days.

Deckard Cain returns to the ruins of Tristram Cathedral. And not just returns - he is in search of knowledge that can help him overcome Evil. And to the very place through which Diablo entered the world, the harbinger of the Apocalypse descends. Of course, the heavenly flame awakens the ancient Evil, and now the heroes of the Sanctuary are obligated to protect ordinary mortals from the forces of Evil.

Features:
Fans of the series will finally learn the long-awaited 3D world of Diablo, and beginners will be able to imbue with a dark Gothic atmosphere.
Which of the five characters do you choose? At your service - a demon hunter, a monk, a sorcerer, a barbarian and a sorcerer.
Now the platform Battle.net significantly upgraded, which means that the multiplayer game has become not only more convenient, but more saturated and dynamic.
You can not only bravely fight in battles, but also set traps, use trees as shelter and throw in your enemies a variety of items.
Activation:
1. Log in to your account:
https://eu.battle.net/account
and enter your username and password
2. Enter the key to the link:
https://eu.battle.net/account/management/add-game.html
3. After activation key, you can download the game client
Minimum system requirements:
Windows XP / Vista / 7;
Processor: Intel Pentium D 2.8 GHz / AMD Athlon 64 X2 4800+;
2 GB of RAM;
Video Card: Vidia GeForce 7800 / ATI Radeon X1950, 256MB
12 GB of free hard disk space;
DirectX®: 9.0c or later;
The connection to the Internet.
02.01.2019 2:03:25
супер, рекомендую
20.10.2018 11:08:22
хочу bonus
28.02.2018 18:23:00
Пришел, активировал)
15.04.2017 19:28:31
Товар пришёл буквально за минуту, спасибо большое! Приятно бы получить bonus!)
14.04.2017 20:06:11
Оплатил, сразу пришёл ключ. Через 5 минут уже играл. Теперь хочу ещё и bonus.
14.04.2017 17:39:43
Все отлично, спасибо)
12.04.2017 21:47:18
Через минуту пришел ключ на почту! Все ок! Просьба выслать bonus.
11.04.2017 0:40:13
Ключ пришел мгновенно, жду подарка, спасибо.
10.04.2017 19:36:14
спасибо большое, долго искал где купить подешевле и вот наконец-то )
хочу bonus
10.04.2017 17:54:14
Ключ успешно активировался. Спасибо большое.
Хочу Bonus.
10.04.2017 14:47:00
Bonus, все отлично!
08.04.2017 19:53:59
Все отлично, хочу бонус!
07.04.2017 15:54:14
Моментальный ключ, работает тип-топ
07.04.2017 13:07:51
Все четенько, просьба выслать bonus!
06.04.2017 14:57:38
Все получил. Рекомендую продавца. Хочу бонус.