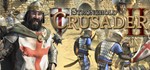 Sup, Buddy!

Stronghold Crusader 2

Platform: PC, Steam
Region: Global
Type: Key

You receive your game immediately after purchasing it.

Stronghold Crusader 2 is the long awaited sequel to Stronghold: Crusader, the original ´castle sim´. After 12 years Stronghold returns to the deserts of the Middle East circa 1189, with a new 3D engine and realistic castle destruction powered by Havok Physics. Crusader 2 will recapture the original game's addictive, fast-paced gameplay and authentic castle simulation.

True to its roots this new Stronghold will define old school real time strategy, combining RTS and city builder gameplay. Playing as a brutal Crusader Knight or Arabic freedom fighter, you must use a deadly array of troops and destructive siege equipment to decide the fate of the holy lands. Lead your forces into battle as either Richard the Lionheart or the Sultan of Syria in two historic single-player campaigns, with dynamic events such as tornados and locust swarms. Become the greatest Lord by managing your desert economy and seizing control of vital oases.

To dominate the battlefield you will need to command more than 25 unique unit types, mastering their special abilities. Raise morale with the Sergeant at Arms, charge in with the Sassanid Knight, use Archers to launch an arrow volley or scale castle walls with the deadly Assassin. Once your skills have been perfected put them to the test in skirmish mode or take the battle online with up to eight human and AI players. Create teams, choose different AI opponents and design your own map in the ultimate skirmish or multiplayer game!



Build the Ultimate Castle - Design mighty strongholds and fill them with fiendish traps to crush your enemies!
Skirmish Mode - Lay siege to your enemies in fast-paced custom skirmish matches against the AI.
8 Player Multiplayer - Mix and match human and AI players, maps and game modes to set up your ideal multiplayer game.
Battle a Wide Range of AI Lords - Classic AI characters return alongside new blood, each with distinct personalities, castles and play styles.
Challenge the Crusader Trail - Test your mettle across a range of increasingly tough skirmish campaigns.
Co-op Play - Share control over castle building, troop control and resource management in Co-op Mode.
Castle Sandbox - Dive into the Map Editor or Free Build mode and construct the ultimate castle without fear of attack.
Feel free to contact me whenever you need to.
See you, buddy :)
Please note all keys and gifts are unique items and are final sale.

================================
!!! ATTENTION PAYPAL PAYERS !!!
================================

There are a lot of carding attemts lately, so please be sure that you PayPal account status is confirmed/verified.
If your status is unconfirmed/not verified we will have to accept or decline your payment manually.
In this case we will kindly ask you to provide us with a copy of your id (passport, driver´s license, student´s id etc.).
We will understand if you would not want to provide us such document and decline your payment.
After we get a photo of id and accept your payment, the system will automatically send you your game.
Usually it takes a couple of minutes, but sometimes, which is not our fault, it may take up to 24 hours.
We apologize for such inconvenience and seek for your undestanding.

========================================
!!! PRESENT FOR A POSITIVE FEEDBACK !!!
========================================

Leave a positive feedback and I guarantee you a nice present. Steam key or gift
(or bundle) will be sent to the e-mail you provide during the purchase. You will
receive it during 48 hours after your purchase.
12.05.2018 17:51:31
Nice seller
08.05.2018 21:33:56
спасибо за ключ) все на высшем уровне! можно подарочек?
12.12.2017 19:45:57
Все пришло быстро. Хочу подарок!
02.12.2017 13:51:30
Ключ рабочий, получил сразу после оплаты
21.10.2017 14:20:40
сразу после оплаты дали ключ . обмана нету
18.10.2017 14:39:20
Товар моментально приходить после оплаты, жду подарок)
11.10.2017 19:34:59
Все супер, спасибо! Жду подарок)
10.10.2017 22:19:00
спасибо большое. хочу подарок)
10.10.2017 20:12:36
Все классно, быстро, дешево!
04.10.2017 16:53:36
Все быстро и легко, спасибо, жду подарок)))
27.09.2017 20:58:16
Всё пришло, спасибо.
21.09.2017 17:08:51
Всё работает
21.09.2017 13:23:34
key получил, спасибо
15.09.2017 11:40:35
Чикс) купил ещё одну знакомому для компании)
Все прошло