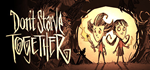 This gift can be activated only in these countries: Armenia, Azerbaijan, Belarus, Georgia, Kyrgyzstan, Kazakhstan, Moldova, Tajikistan, Turkmenistan, Uzbekistan, Ukraine, Russian Federation.
About this game

Don´t Starve Together is the standalone multiplayer expansion of the uncompromising wilderness survival game, Don´t Starve. Now including Reign of Giants; adding new characters, seasons, creatures, biomes, and Giant new challenges to Do not Starve Together.

Enter a strange and unexplored world full of strange creatures, dangers, and surprises. Gather resources to craft items and structures that match your survival style. Play your way as you unravel the mysteries of this strange land.

Cooperate with your friends in a private game, or take your chances with strangers online. Work with other players to survive the harsh environment, or strike out on your own.

Do whatever it takes, but most importantly, Don´t Starve.
Activation:
1. You need to download and install Steam
http://store.steampowered.com/about/
2. Register a new Steam account or log into an existing one;
3. The resulting link after purchase, you need to copy and paste into your internet browser, under her own account to go on Steam and take a gift to the library or add in Steam inventory;
4. After activating the game will appear in the list, and you can download it from Steam or will be stored in your inventory, you can activate it later or to give to a friend.
07.09.2020 23:03:21
Спасибо, получил!
01.09.2020 13:34:58
Все отлично. Рекомендую.
17.08.2020 0:52:12
Получил) спасибо)
15.08.2020 18:53:19
Работает!
08.08.2020 23:27:19
спасибо все отлично
03.08.2020 16:45:58
Спасибо все работает.После оплаты выдался подарок.Все по описанию)
07.03.2020 1:38:53
Спасибо всё пришло +

02.03.2020 12:42:34
Отличный продавец, рассказал и показал как можно изменить текст в подарке а так же исправил ошибку из-за которой я с первого раза не смог купить товар, советую покупать у него.
19.02.2020 15:14:32
все отлично, пришло быстро
17.02.2020 23:10:40
Спасибо
12.02.2020 20:23:34
Все четко
03.11.2018 15:25:01
Всё отлично, гифт пришёл, всё активировалось
24.11.2017 0:56:57
все хорошо, я актевировал. Советую продавца
21.11.2017 23:07:17
Спасибо, все пришло! Подарок
15.11.2017 22:08:06
Все Ок. Активировалась без проблем.
12.10.2017 14:37:03
Товар пришел, продавец не обманул
Жду бонус
10.10.2017 13:10:06
Всё пришло очень быстро, спасибо)
02.09.2017 18:10:07
Дошло моментом. Рекомендую.
02.09.2017 0:48:25
Супер! Прям не дорого и быстро! Спасибо!