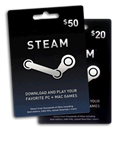 You are purchasing a Steam Wallet card. If your account is in a different currency, the value of the card will be converted based on the exchange rate.
Аfter payment you will see a form to fill, which will need to complete the following fields:

- Адрес электронной почты (email);

These data will be transferred to the seller to complete the deal.
17.10.2017 22:20:58
+every thing is just fine
01.02.2017 17:47:50
Code received instantly and worked perfectly.
Would love to see some gift. Thank you!
27.12.2016 13:12:55
Не верьте приставкам "+~ EUR", вы переплатите ровно по курсу. Я получил 5 евро, хотя заплатил целых 6 + комиссии... Что за бред?
31.10.2016 21:39:46
очень быстро , спасибо
12.05.2016 17:45:35
товар получил