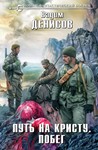 An avid hunter and fisherman Darius Kvachina well adapted to the hard world of the planet Christa where his boat drifted through the slot on Aracar river. Serious preparation helped Darius to not only survive, but also to become warden Dixon fortress located north of Brindisi. However, the circumstances did not allow Kvachina sit in one place. He fled, not knowing what´s ahead of his expected not only new monsters and mysteries ...
03.05.2016 22:08:49
Пишите.
30.04.2016 23:53:00
Замечательно!
07.04.2016 11:01:36
замечательно!!! ждем еще
29.03.2016 23:32:17
Не читал, но одобряю
24.03.2016 22:55:04
классная серия
19.03.2016 19:54:07
Наконец-то! :-)
19.03.2016 14:14:34
Отлично!