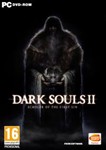 Region: Russia,
RELEASE: April 2, 2015 (Release date is subject to change by the publisher)
Localization: Russian subtitles

Edition Dark Souls II: Scholar of the First Sin includes:

The most complete edition of DARK SOULS ™ II includes all the earlier materials, and much more!

New tests and sensations! Revision of the enemy position completely changed the dynamics of the game. Older safe zones are no longer safe! Changed objects on the map, as well as their location. A new character named Forlorn plays a key role in the gameplay. Experienced fighters will have to forget what they have learned, and re-acquainted with DARK SOULS ™ II.

The game on the network added a few improvements. There was a further object of regulating the amount received in the shower battle. It has become easier to choose equal forces opponents, and the number of players who can participate in online gaming has increased from 4 to 6. All of this has completely changed the dynamics of the game on the network.
By purchasing a digital product, you agree to the terms of its purchase
remember that according to the rules this product is not returned and exchanged.
after the moment of transfer of the goods to the buyer, the seller is not responsible for it
Remember also that access to the provision of digital content and the provision of all services associated with any purchased product provides a Steam service
on all the issues you need to apply in support of steam
If you do not agree with these rules, please refrain from buying goods !!!!!!
INSTALLATION:
- Download and install Steam -
http://steampowered.com/download/SteamInstall.msi
- Register a Steam account
- Go to the "Games" section and select "Activate via Steam"
- Enter the activation key
- After that the game will be displayed in the list
26.06.2018 0:26:05
Ключ рабочий, спасибо.
07.06.2018 15:34:16
Шикарно,взял через мобильный платеж,цена обрадовала,скорость получения ключа моментальная, кайф
02.06.2018 15:14:07
Ключ пришел быстро, активация успешна)
27.02.2018 16:01:22
Все круто, покупайте здесь.
24.01.2018 9:44:17
Все работает!
23.01.2018 21:57:01
Спасибо, ключ получил!
21.01.2018 15:51:15
Спасибо за ключ
15.01.2018 17:15:27
Все хорошо! Продавцу спасибо!
15.12.2017 22:41:35
ключ пришел
01.12.2017 15:29:28
Все пришло спасибо :) :***
15.10.2017 19:08:23
Спасибо, ключ пришёл сразу
15.10.2017 3:45:58
Все пришло! Большое спасибо!)
17.08.2017 14:53:21
Спасибо
15.08.2017 13:52:43
Ключ пришел моментально. Все норм
15.08.2017 5:46:37
спасибо, другу понравился подарок)
14.08.2017 14:54:51
Ключ пришёл спасибо!
13.08.2017 10:01:17
Всё моментально пришло.
06.08.2017 14:18:35
Спасибо!