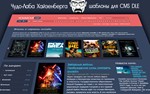 Template You Move excellent turnkey solution to create a serious competitive online theater on the basis of the contents of DataLife Engine management system. Designed in minimalism, unobtrusive colors and very nice, one of the features of the pattern is its lightness, 95% design is written in CSS.
We would like to mention the fact that you do not have a template to optimize for search engines, we did it for you! Template perfectly optimized code is hidden from unwanted indexing.
Fully working on the current version of DLE.
Modules and khaki template
1. "Amount News" This module is designed for that would display the number of published news in a certain category of your site. In this case, the module displays the amount of added movies sorted by genre. On the left is the total number of films, with the right number was added per day.
2. Module "mRating" individual rating module shows how many users liked or did not like the news
Переводчик Google для бизнеса –Инструменты переводчикаПереводчик сайтовСлужба "Анализ рынков"
Width: Rubber
Layout: Block
Encoding: windows-1251 and UTF-8
Version DataLife Engine: 11.0 Free support and upgrades to new versions of the engine!
Tested: IE> 8, Firefox, Safari, Opera, Chrome, OperaMini, Microsoft Edge
Options: template, instructions, PSD logo, module "Amount News", module "mRating"
Topic: Video, Movies
18.03.2016 15:20:52
Шаблон не плох, но является переделкой (перекраской) шаблона "KinoMin" , этого автор не указывал.