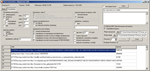 NewCommenter - intelligent program which is designed to facilitate the work of commenting on blogs and websites. It allows content-based commented page to pick up and send beautiful and pertinent comment without your intervention. Mostly used for commenting the most common in the world of blogging CMS - Wordpress.
A detailed description and examples of the work program on the site -
http://newcommenter.com
Immediately after payment you will receive a form to fill in the registration data, which will have to fill the following fields:
- E-mail address (email);
- Your Niсkname;
These data will be transferred to the seller to complete the transaction of sale and purchase of goods.
22.07.2018 21:53:36
спасибо
22.07.2018 11:35:29
Отлично! Всё произошло быстро. Продавец отзывчивый, всё объяснил!

08.05.2018 12:19:27
Спасибо!
07.05.2018 12:43:21
Взял вторую копию для второго компа, отличная работа!
28.11.2016 14:49:36
Знаю продавца по форуму поддержки БМ, он написал софт когда у других даже подобного не было в мыслях! Надеюсь софт для windows будет таким же хорошим как примочка для xrumer.
05.08.2016 12:55:39
Все ок