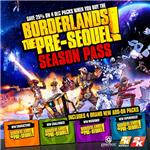 ++++++++
GIFT:
++++++++

Every second buyer (in random order) of all our products leave positive feedback - get one of the more than 40 different games to Steam. What? This you will learn when you get your gift in the mail.
It can be activated in the "Steam".

To get a gift you must:
1) Buy our game
2) to leave positive feedback with the comment "I want to gift" and specify it your E-mail
3) Wait.

Subscribe present case within 48 hours after writing a comment.
Attention !! Gambling Review - You warrant that you have read all the conditions for a gift, and if something is not clear - asked.

***************
Language: Russian, English, German, Spanish, French, Italian, Japanese
Platform: PC
Activation: Steam
Regional restrictions: Russia, Ukraine and CIS

CAUTION The key can not be activated in Origin.

CAUTION
To access content additions, you must have installed a licensed version of the game Borderlands: The Pre-Sequel !!

***************

With four additions to the Borderlands: The Pre-Sequel Season Pass contains more characters, tests, missions and experience. All contents of the Season Pass will be available in October 2015.

The madness must go on! Play Borderlands: The Pre-Sequel with Character & Season Pass. In them you will find even more characters, tests and missions! Buy Season Pass and get four additions to the price of three. All contents of the Season Pass will be available in October 2015.
26.08.2018 14:56:39
спасибо продавцу, давно хотел купить, да в стиме дорого, так же ожидаю от него подарка
11.01.2018 14:29:39
СПАСИБО ВСЕ СУПЕР ПРИШЛО БЫСТРО
12.12.2017 9:00:49
Хочу подарок
17.08.2017 20:59:36
все четко, жду подарка
27.04.2017 11:35:23
Хочу подарок
09.02.2017 13:38:57
Все пришло!Всем советую и я хочу подарок Profesorcherep@mail.ru
07.08.2015 20:19:03
Всё ОТЛИЧНО РАБОТАЕТ )) Хочу получить ПОДАРОК ))!!!
04.05.2015 7:29:52
Отлично, ключик пришёл сразу. Хочу подарок!
26.03.2015 17:22:31
Спасибо! Хочу подарок.
26.03.2015 15:35:47
Хочу подарок.

18.03.2015 19:12:42
Супер, всё прошло!
Хочу подарок! =)
26.02.2015 18:05:27
Вроде всё работает. Покупкой доволен =). Хочу подарок. dead435@mail.ru
15.02.2015 23:12:39
Ключ прошел. Был бы рад получить подарок.
19.01.2015 21:01:46
Спасибо.

Хочу подарок. sunheretic13@gmail.com
19.01.2015 15:46:03
Всё активировалось. Благодарю за товар. Жду подарок - destrobo99@gmail.com
02.01.2015 20:23:33
Очень быстро,спасибо огромное!!!
хочу подарок catbro8@gmail.com
01.01.2015 18:03:56
Все норм
24.11.2014 15:56:21
Отлично, получил ключ сразу же 10\10
Хочу подарок Aleksandr.popkov@live.ru
10.11.2014 13:16:12
хочу подарок lemurkf@gmail.com
06.11.2014 23:07:35
Всё отлично спасибо !