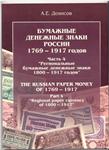 Title: Part 4: Paper moneys Russia 1769-1917 period.

Author: AE Denisov

Publisher: Finance and Credit. Moscow

ISBN: 5-8024-0035-8

Year: 2005

Pages: 109

Russian Language

Format: PDF

Size: 33.17 Mb
In the catalog for the first time most fully systematized all known information about the national issues of paper money (bank notes, deposit tickets, credit notes, treasury Signs) and regional government issues for the Kingdom of Poland and the Grand Duchy of Finland. Also included are data on metal deposit receipts that have been used on a par with national monetary signs. The catalog also includes private currency issues (Russian-American Company, the Russian-Chinese bank, Russian-Asian bank), is actually a colonial outlets under state control. Included banknotes Malcev the factory district, which, along with the national bargaining chip were admitted into circulation to meet the needs of trade. Many sections are designed in detail for the first time and not previously published in similar publications devoted to Russian banknotes.
No feedback yet