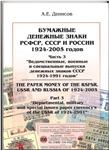 Title: Paper money signs of the RSFSR, the USSR and Russia 1917-2005 years.
Part 3: Departmental military and special releases of bank notes SSR 1924-1991 years
Publisher: Deepak
Year: 2007
Russian language
Format: PDF
Quality: the Scanned pages
Pages: 168
Size: 51 mb
The strength of all the books by E. Denisov is the availability of information on the legislative acts regulating the circulation of money. The book is illustrated with gorgeous black and white photographs. One of the best book on the domestic bonistics.
No feedback yet