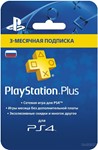 A PlayStationPlus subscription is a service that gives players access to a range of additional bonuses and helps them get the most out of their PS4 gaming systems. Join PlayStation Plus and dive into the world of exciting multiplayer PS4 games. Gather your team and compete with the strongest players from around the world. Invite friends from PlayStation Network to play online PS4 games that you have but your friends don´t have with SharePlay: share an adventure, challenge them in a multiplayer battle, or transfer control to a single-player campaign.
Get more than 60 games per year at no extra charge for your PS4 consoles. Get access to fresh games, demos and beta versions before other players. Keep backup copies of your saved game data online, using 1 GB of space for your PS4 and keep playing from where you left off, wherever you are.
PlayStation Plus - for those who play. To access the PS4 network game, an active subscription is required. Materials at no additional charge are updated monthly and remain available throughout the duration of the active subscription.
18.02.2019 10:56:36
Все получил)
05.04.2018 11:14:50
Все круто !)
28.09.2017 21:56:36
Отлично
01.05.2017 12:17:42
Отзывчивый продавец, отличные товары и цены
20.04.2017 18:24:20
Thank you :))
04.04.2017 11:01:13
отлично все! покупайте!
29.03.2017 7:22:49
Отлично! покупайте только здесь
27.03.2017 15:03:58
Все работает
Спасибо
27.03.2017 11:49:45
Спасибо за игру!
27.03.2017 3:24:21
Все хорошо, спасибо
20.03.2017 19:16:47
Благодарю! Гифт пришёл сразу и активировался нормально.
14.03.2017 0:19:06
Все отлично
15.01.2016 1:18:29
Всё чётко, пришло моментально. Спасибо
14.01.2016 20:12:22
Все супер. Устанавливаю игру.
14.06.2015 18:24:14
Все шикааарно
30.04.2015 1:23:44
спасибо