Content: swapwall_3.5_portable.rar (1.31 MB)
Uploaded: 10.02.2014

Positive responses: 0
Negative responses: 0

Sold: 0
Refunds: 0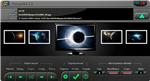 SwapWall - tool to automatically change your desktop wallpaper.

If you do not like monotony, and love often change the wallpaper then this program is for you. You do not have to search long for the wallpaper on your disks, and change them manually. The program was created in order to perform all these steps automatically.

With it you can adjust the automatic change of wallpaper after a certain period of time. Of course, the program supports all popular image file formats. And most importantly, unlike other similar programs, SwapWall almost does not overload your system resources, allowing you to easily use the program.
• Automatic change wallpaper with a specified time interval.

• Random or to cycle the wallpaper.

• Ergonomic interface.

• The minimum load on the system.

• No need to install, download and run.

• Can not remove favorite images from the hard disk.

• The ability to manage the program from the system tray or using global hotkeys.
No feedback yet