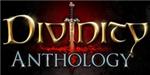 World Divinity ten years old! In honor of this event Larian Studious releases Divinity: Anthology - the collection, which includes all parts of this famous series. Play your favorite games again for the first time, or immerse yourself in a magical fantasy universe, which was loved by a lot of players around the world!


Universe Divinity - this is an absolute freedom of detailed fantasy world, as well as an incredible battle not only on land but also in the air. The development of events depends on your decisions - write their own history Rivellona!


In Divinity: Anthology offers and unique extras. Walk ways that were previously open only to developers of the game, learn the history of the legendary RPG, get special game add-ons and new equipment.


The composition of publication:


- Divine Divinity: Birth of a legend

- Beyond Divinity: the chains of fate

- Divinity II: Developer´s Cut


The composition of this publication also includes a unique activation codes for the game content has not yet been published game series Divinity:


- Golden jetpack (unique item for the game Divinity Dragon Commander). Fly higher and bring down the enemy firestorm - this one. Do the same stylish -sovsem more. Hardly noticing the golden jetpack, you recognize your enemies the true lord of the heavens and will beg for mercy.

- Golden Grail (unique item for the game Divinity Original Sin). Golden Grail found in the tomb of the aura of the rich and powerful king Rivellona. Grail is filled with gilded water that never dries up. Anything that touches it - weapons, items, clothing - immediately covered with a layer of gold gorgeous. These things not only give you a view of the mighty warrior of light: in the eyes of traders of the game world, they will become much more valuable.


Features:


- Rich unexpected discoveries huge game world.

- Intriguing storyline quests and original alternative solutions.

- A unique role model, dozens of developing skills.

- Atmospheric music.

- Unlimited possibilities for re-transmission and generation of random quests.
WARNING: This key is used to activate on Steam.
How to start:
• If the Steam client is not installed, download and install it.
• Log in to your Steam account, or register a new one if you have not already have it.
• Go to "Games" and there select "Activate via Steam».
• Enter the activation key.
• After that, the game will appear in the list, and you can download it.
Maybe you are interested in other games distributed by us. Full list is available here:
http://games.plati.ru/
08.03.2018 12:36:24
Пришло, жду подарок.