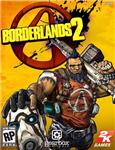 ++++++++
GIFT:
++++++++

Every second buyer (in random order) of all our products leave positive feedback - receiving one of more than 40 different games to Steam. What? This you know, when you get your gift in the mail.
It can be activated in the "Steam".

For a gift you must:
1) Buy our game
2) to leave positive feedback with a comment "I want a gift," and specify it your E-mail
3) Expect.

Subscribe present case within 48 hours after writing a comment.
Warning !! Gambling Review - You warrant that you have read all the conditions for a gift, and if something is not clear - ask.

***************
Russian Language
Platform: PC
Activation: Steam
Regional restrictions: Russia, Ukraine and CIS

Pay attention!
For access to content additions, you must have installed a licensed version of the game Borderlands 2.

This supplement is included in the Season Pass for Borderlands 2, and season ticket holders will automatically receive this supplement!

CAUTION The key can not be activated in Origin.

***************

The third addition to the Borderlands 2, entitled "Sir Hammerlok opens hunting season" players get on the little-known swamp Pandora, where giant ship crashed Hyperion. According to rumors, it holds were filled to the brim with valuable cargo. But beware: creepy swamp creatures and the gang of savages surround the ship. At first glance, they seem to be wild and unrestrained, but in fact they are controlled by a mysterious professor Nakayama.

Key features:
- Top Gun across Borderlands 2
- Protection of the hacienda Hammerloka
- The hunt for the most dangerous game in the world
- The new zone: swamp
- New vehicle for wetlands
- The new head and the images of charactersdeliveryThis product is distributed through the digital distribution, represents the only pin and does not contain any packages and boxes. </ Delivery>
Instructions for activation key in Steam:
1. Download and install Steam
http://steampowered.com/download/SteamInstall.msi
register an account with Steam.
2. Click "Add game - activated via Steam" and follow the instructions. After activation of the game will appear in the list of games and you can download it.
3. Download and then run a full installation and play.
The easiest option to take a friends license disk with the game or download any torrent tracker license an image, set the game to him, and when prompted enter the code purchased from us the key.
VNMANIE After activation serial key in the steam, the key becomes not valid, ie, they can not re-use.
Be sure to remember, and better write down all the details of your account! Without them, you will not be able to gain access to active games in the future.
-------------------------------------------------- --------------
Dear customers!
We will be very grateful to positive reviews!
Thank you, Your GameCode.
All of our products on the page
http://www.wmcentre.net/seller.php?ids=145306
-------------------------------------------------- --------------
No feedback yet