Content: iTunes-50-US-1967_06.jpg (14.36 KB)
Available: 8
Uploaded: 02.04.2021

Positive responses: 465
Negative responses: 0

Sold: 5185
Refunds: 0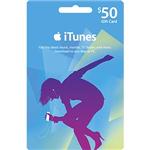 You are purchasing iTunes Gift card $50 for US-accounts. The code will be available for download as soon as you complete your payment. You will also receive an email with the link to your purchased card.
Attention: this card can be activated only on USA iTunes account!
***** INSTANT KEY DELIVERY *****
You will receive the key to the screen immediately after payment. It can also be viewed on
http://www.oplata.info
***** WHY IGROSHOP *****
• More than 12 years of selling on Plati
• Merchant passport since 2002, BUSINESS LEVEL (BL) 1300!
• Positive feedback
• Vast experience with releases of new games and delivery of products
• Loyalty discounts
• Support in English available
US iTunes Store offers a wide range of programs for your iPhone, iPod, iPad, as well as a wide range of music and movies.
This card does not have an expiration date.
26.03.2021 6:57:54
Спасибо продавцу, всё очень быстро и работает, без сюрпризов, обязательно буду ещё покупать, рекомендую
15.03.2021 21:21:47
Awesome
15.03.2021 9:33:32
Good quality
09.03.2021 7:53:21
Everything is ok
19.02.2021 14:18:09
No problem as always
11.02.2021 13:19:09
Всё отлично - код сработал. Спасибо.
10.02.2021 13:50:13
спасибо, всё ок
05.02.2021 9:50:09
Код сработал, всё отлично! Только в отличие от прошлых раз это уже не скан карты, а скриншот номера карты, который камера Айфона не может отсканировать - пришлось вводить номер карты вручную, что не удобно.