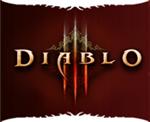 Hour selling gold at the European and Russian servers game Diablo 3 for heroic (Hardcore) game mode.


HOW TO BUY GOLD:

1. On the right in the calculator, enter the desired amount, payment method and execute a purchase.

2. After the payment you will receive a unique 16-digit code.

3. Provide a unique code and your Battletag operator in the chat room.

Within 5 minutes, the operator will invite you into the game and give Gold.


PREPARATION:

For Gold you need to contact the operator via chat plati.ru.


CONTACT INFORMATION:

Since the operator must contact using the built in chat Plati.ru.


BATTLETAG:

Battletag kind of nickname # digits (example: vasya # 2345). It can be found in your account in the game and battle.net profile.
================= ATTENTION! ACTION ==================
We will issue an additional 1 to 10% of gold every buyer, but first things first.
So, after each purchase you get a 16-digit unique code. This code is randomly generated numbers from 0 to 9 and the letters of the alphabet from A to F.
The bonus amount depends on the first digit unique code that you received after payment
A - 1%
B - 2%
C - 3%
D - 4%
E - 5%
F - 6%
1 - 1%
2 - 2%
3 - 3%
4 - 4%
5 - 5%
6 - 6%
7 - 7%
8 - 8%
9 - 9%
0 - 10%
You will receive a bonus along with the issuance of the order. But there is one small condition - you must indicate the response that you get a bonus.
For example, your code E7F1O7D830C24606, begins at the "E", then you will get 5% more gold. In this case, an example of the review: "Thank you, received a 5% bonus."
Bonus is issued regardless of the cumulative discount on wmid. If you have a discount on wmid, you will get a discount and bonus.
Place a button on this product (
http://www.plati.ru/asp/agent.asp?show=goods&id_d=1337032
) on your site or forum and get up to 10% on each sale!
Diablo 3 gold on the European (EU) and Russian (RU) conventional (Softcore) servers, you can buy the link
http://gds.digital/item/1321979
Diablo 3 gold on the European (EU) and Russian (RU) servers heroic (Hardcore) mode, you can buy the link
http://gds.digital/item/1337032
No feedback yet