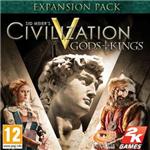 GIFT:



Every second buyer (in random order) of all our products leave positive feedback - receiving one of more than 40 different games to Steam. What? This you know, when you get your gift in the mail.

It can be activated in the "Steam".


For a gift you must:

1) Buy our game

2) to leave positive feedback with a comment "I want a gift," and specify it your E-mail

3) Expect.


Subscribe present case within 48 hours after writing a comment.

Warning Gambling Review - You warrant that you have read all the conditions for a gift, and if something is not clear - ask.


*

Language: Russian, English

Platform: PC

Activation: Steam

Regional restrictions: Region Free


CAUTION

To use this supplement, you must have installed the original game of Sid Meiers Civilization 5!


CAUTION The key can not be activated in Origin.


*


Gods and Kings covers a huge period of time - from the bottom of the first pantheon of gods and began to spread the religion of the world before the era of international espionage. Both - the religion and espionage - two completely new and extremely important facets of the new issue of Civilization.


Faith and knowledge of the gods and kings - that´s what motivates people is what builds empires and destroys them. Leaving behind century after century, you will interact with the city-state of new types, to perform various tasks and to participate in global competition, as well as learn a new system battles on the water and on land.


Supplement Gods and Kings introduces the game Sid Meiers Civilization V nine civilizations, nine wonders of the world, dozens of units, buildings and technologies. In addition, there are three large-scale scenario, dedicated to different periods of world history.


This product is distributed through the digital distribution, it represents the only pin and does not contain any packages and boxes.
05.01.2019 23:33:24
Быстро и без проблем получил ключ
22.10.2018 20:19:05
Happened a little problem but with seller´s good communication, we solved the problem. Fast and trustworthy seller!

I want a gift
My e-mail: nogan.oguz@outlook.com
04.12.2015 14:35:41
Хочу подарок
nijel.oleg@ya.ru
01.12.2015 12:50:00
Супер быстро и надежно :)
22.10.2015 12:19:12
Все отлично. Хочу подарок
14.07.2015 18:35:02
Хочу подарок!
14.06.2015 2:45:11
Спасибо большое, купила ключ, все работает.
Хочу подарок.
Email: leader.uchiha@yandex.ru
01.06.2015 2:22:42
Все отлично, и ваучер активировался + подарок на счет в скайпе ~1.5 евро, спасибо! =)
19.03.2015 17:15:40
КЛАСС
22.02.2014 15:45:10
все отлично прошло!
самая низка цна у вас - и это отлично!
19.02.2014 13:15:06
Спасибо