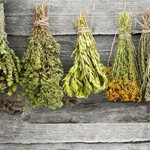 Arhilim, Seaman, Triputnik, gap-grass ... These and many other seemingly fabulous plants whose names are firmly rooted in the magical tales of the Russian people, since ancient times attracted its mystery, mysterious properties and led a force of dedicated wizards.

Compilers themselves many years working with herbs, set a goal - to decipher the ancient names of plants listed in the manuscript Travnik in order to compare them with the modern names and ways to use plants in central Russia.

This unique edition is illustrated guide created to help both beginner and experienced practitioner, herbalist. The directory contains not only names and images "magical" herbs, but also very real methods of their use.
Table of contents


Scrofula

Surovets

Sham

Raven

Vary

Machiha

Perekop sea

Uzhmintsa

Voronets

Nason

Pasque-flower

Pogibelka

Cormorant

Samorostets

Bull

Tsar Ivan (Arhilim, King-Siman)

Lathraea

Livakum

Levuppa

Paradise

Devetisil

Eindrinkt

Konov sorrel

Zemlenitsa

Job

Death´s head

Savikt

Velizh

Uzhik

Izmodnik

Bias zheleska

Poputnik

Marian

Crybaby

The gap-grass

Jumper horse, skochek.

Ant

Zemezeya

Grass Sava

Shirt

Hoof

Starodubka

Perekop (turnover)

Kropiva

Magpie and sheep sorrel

Rebecca

Transfer

Perevyaska

Black bylets

Swamp bylets

Water navel

Vachistik

Angelica

Angelik

Sorrel

Sidies

Scrofula

Quinoa

Polish Mint

Rowan (rebina)

Kurepa

Cats mulfe

Beating

Puhlets

Ruff

Somoto

Mullein

Chetvernik

Hazel

Broom

Zhog

Root

Rathma

Mensherafa

With

Cornflowers

Leucanthemum

Romannikov

Grass tirlich

Grass prikrysh

Paporotnik

Grass Nechuy-wind

Tutsan

Murat, King

Lavender

Dill

Mandrake

Aronia

Sambucus nigra

Holubec marsh

Herman (Garman) common (burial)

Emuliya yellow

Zeytsegub intoxicating

Zamaniha high

Primrose

Rue

Sphagnum (moss)

Tribulus terrestris

Nukokeya

Sow thistle

Sheba

Wild hops

Efiliya

Vukvitsa

King Seaman

Molchan

Raspberries

Postrel upland and field

Postrel lyutik l?sovoy

Tserekon

Peresyaka

Vizil

Libist

Hilitonіya by Russian Lastovichya

Tsarskіya Eyes
No feedback yet