Content: pirates-remer.zip (2.00 MB)
Uploaded: 24.02.2011

Positive responses: 0
Negative responses: 0

Sold: 0
Refunds: 0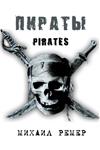 -Jack Sparrow - an endangered type. The world still close, white spots on the map smaller. Jack must find a place in the world or perish.

Pirates Of The Caribbean. Dead Man's Chest "

Somalia - modern piracy ...
ISBN - 978-1-4580-1703-1

Buying a book, you get a book into 4 most popular formats - PDF, FB2, EPUB and TXT.

For any reader. The personal computer, software-reader, smart phones, phones, iPads and so on.
No feedback yet